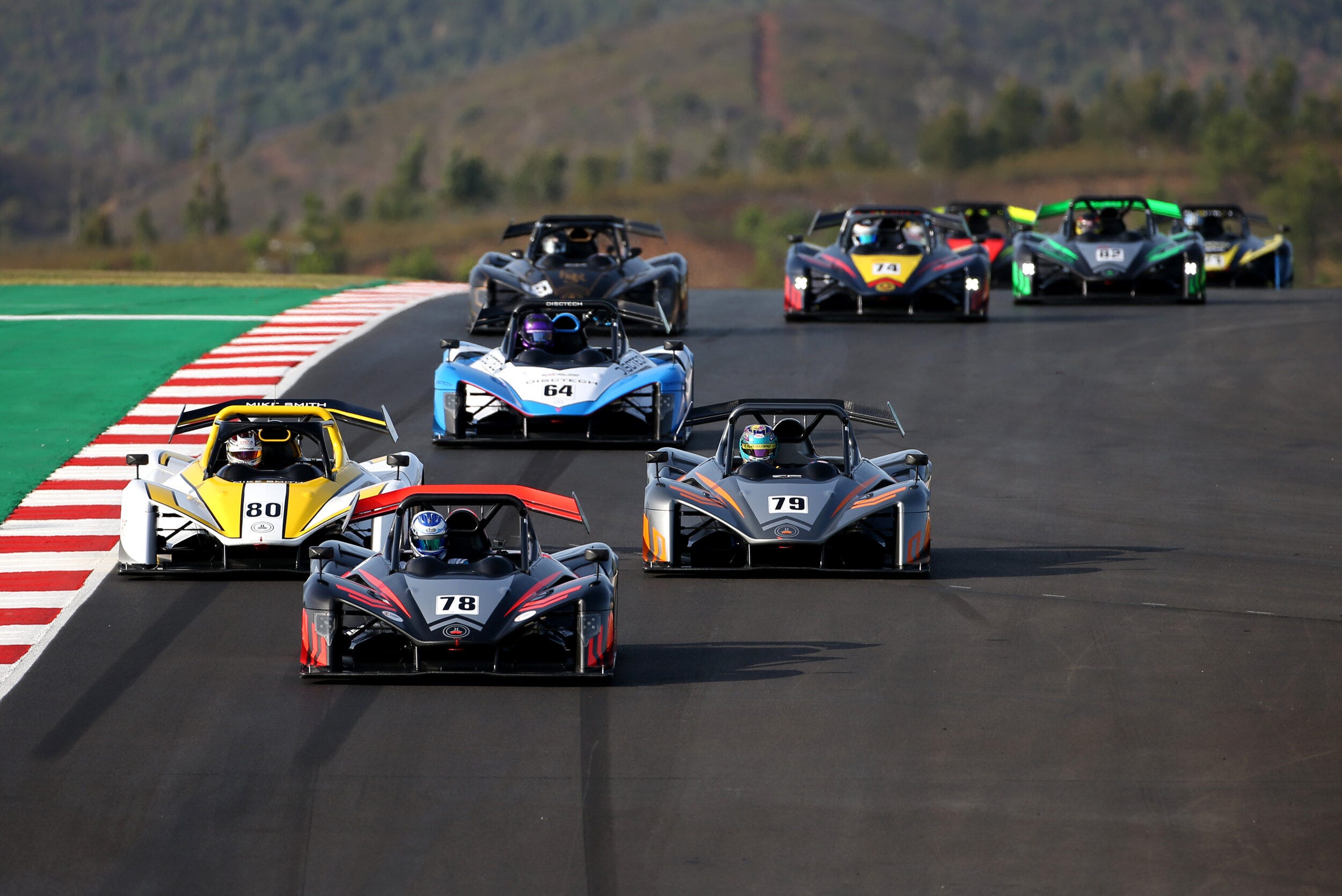 All inclusive race season.
Check in your already booked hotel near the track to relax before your first race experience starts. In the morning a fully speced pitbox and crew awaits you to go out for your practise laps. After a excellent qualifying the best part of your weekend begins. Pre-grid, formation lap, green lights.
You are the race driver. The rest is our job.
Need a racecar?
Rent one of our Revolution Race Cars. Or buy a brand new one!
Vehicle storage of all brands.
Your racecar needs a real home. With us, it is prepared and cleaned before each use, repaired and safely stored after each event.
We also have space for your equipment.


Whether a single race weekend, a trackday or an entire season. You can book your all-inclusive package with us.
Organisation.
We book for you. Of course, our all-inclusive package includes your arrival and departure, as well as a rental car and hotel close to the track.
The event has already been booked for you and preparation of your racecar has been taken care of.
Bringing friends and family along? They are welcome!
All inclusive not only for you, but also for your racecar.
Transport.
Your racecar will make its way to the racetrack in a closed trailer.
We bring it to every event that we take care of.
Don't know how to get the vehicle to us? No problem, we pick it up.
A crew just for your racecar.
1:1 service.
Personal support on-site.
A trained crew will take care of your racecar throughout the event. Your vehicle is in the best hands with us.
Our tasks include warming up, pit stops, repairs and setup adjustments.
Technical and tactical support becomes routine.
What is the most underrated part of a race weekend?
Delicious food.
A drivers lounge.
In our lounge directly in the pit box or in the trailer, you can enjoy a break between the sessions and still be directly involved. We offer you comprehensive catering over the entire event. We are happy to take your wishes into account!
Use our racecar as advertising space for your business.
Expand your business with us.
Do you not only want to enjoy an exciting weekend, but also want to advance your business? We offer you the possibility of an advertising space, which even everyone can watch live on television.
All inclusive.
Race season.
Race weekend.
Trackday.
All season storage
Protected & not observable space
Theft & fire insuranced
Vehicle preparation
Repair work & maintenance
Technical check-ups
Booking: your hotel, flight & rental car
Registration & administration for the events
Preparation of your racecar
Timely procurement of spare parts, tires, fuel, etc.
Safe & protected transport to every racetrack (not observable)
24h personal protection
Transport of your racecar from every pick-up place
Personal support on-site.
Time management at the track
Tactical support from a team-manager
Track & vehicle information
Permanent contact person
Technical support from the crew
Personal seat fitting
Seat shell construction at the track
Personal setup adjustments
Warm-up, pit stops, repair work, maintenance, etc.
Spare parts supply & repair work over-night (depending on availability)
Individual catering at the track
Lunch at the track
Dinner in a selected, local restaurant
Lounge in the pitbox
Little lounge in the trailer
Your logo on the racecar
Advertisement in the pitbox
Individual vehicle foliation (only for a whole season)
Photo album of your race event
Get in touch with us if you have any question.
Price on request.
Address
An den Woeren 9
49525 Lengerich
Germany
Contact person
Team-Manager
Marvin Dierkes